Meet the Queen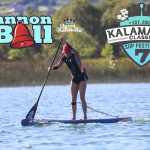 Vancouver's Shannon Bell has earned herself two Queen of Kalamalka Crowns since the Kal Classic started in 2010.  She's coming off one of her best seasons yet but an injury has stalled her momentum.  We think she'll bounce back quickly with a chance to retain her crown.  Here's your chance to meet the Queen of Kalamalka and find out what fuels her passion for all things SUP and family.
 You have a very active family – Tell us about what life is like with the four of you.
Life is great with the four of us. We just did a few SUP surf trips to Tofino for both the boys birthdays. Our kids are old enough now to carry their own boards and sup surf on their own. It is so much fun being able to do an activity together that we all love.
As a family we are always doing something outdoors: stand-up paddling, biking, swimming, hiking,or playing ball sports in the back yard.
 What is an average Shannon kind of day?
At this time of year my days are pretty full. This is what my day looked like today: Woke up, got the kids fed, lunches made, biked to school to drop off kids, came home and make a smoothie/ate breakfast – Then headed to the beach to work for the day, got a short quality swim workout in, watched the sunset and then came  home to tuck the kids in and talk about their day.
 2015 was an amazing year for you for SUP – What was your best race result and why?
On the international level I would say The Gorge was my best performance because I was racing the top women in the world and placed 4th in the technical race and 6th in the distance race.  Another race that I did well at and was a highlight for me was the Maui Jim Oceanfest in Maui, Hawaii. The event has all the water sports that I have competed in over my life: swim, sup, prone, outrigger and surfski. I ended up placing 2nd in the Waterwomen race and 3rd overall after 10 ocean events.
 What are your SUP Goals for 2016?
My goal at the moment is to get my body back to racing shape. I have been recovering from an injury and have taken the last 2 months off paddling to recover. My ultimate goal would be to get back into racing form by August and get back into the top 10 in the world rankings
You have a chance to win your third Queen of Kalamalka Title – what do you think you have to do to win this year?
The Kalamalka Classic race is one we always look forward to every year. It is such a family friendly event and love coming up to visit my folks and race at the same time.  I hope to have the training behind me this year to keep my "Queen" title.
 Who would you like to thank (sponsors, supporters, family, etc)
My family, friends, Trident sports (Starboard), Maui Jim Sunglasses, Great Bear Bites, Nicole Fournier (My amazing physiotherapist and friend).
 Best training advice?
I have such a full schedule that I use a lot of the local races to get some good quality training in. I also like to mix my paddling training up with some quality swim workouts.  I love Trail repeats for a short quality workout and they always get my heart rate up fast. Gary and I also remind each other that "A rest day is a training day".
 What do you want to be when you grow up?
An Archer "My Mom always told me to shoot for the stars"
Shannon Bell, 2016