New Team Event Announced!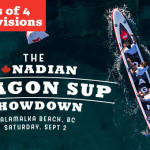 New Event for 2017! This is a TEAM stand up paddle board race that will take place after the Keiki Holo Kids Race on Saturday. Paddlers will compete in teams of four on 22 ft stand up paddle boards in head-to-head races with the fastest teams advancing.
** Clarification on the Championship in Barbados ** Any teams of four battling it out at the Kalamalka Classic are qualified to race at the DRAGON WORLD CHAMPIONSHIPS.

Paddlers must register as a team of four in one of two divisions:
Competitive (Co-ed) – $100 (PRIZE MONEY).
Mixed Bag (Co-ed)-  $60 (PRIZES AND FUN)
Approx Start Time: 2:30pm, Saturday September 2
Location: Kalamalka Lake Beach (West Side)
The 22 ft Dragon SUP, paddle, and PFDs will all be provided as part of your registration.
Prizes for the BEST COSTUMED TEAM
Prizes for other RANDOMNESS